HOW TO CHOOSE A DISTANCE LEARNING PROGRAM
Since lifelong learning became a must for staying competitive in an ever changing world, distance learning is enjoying ever increasing popularity. Keep below things in mind when choosing to let your curiosity explore new galaxies.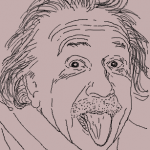 Flexibility
Work schedule and/or private obligations have priority for most of us in our daily routine. Watch out to sign up for a program that leaves you space to keep it this way. The moment you are forced to change these priorities you might start neglecting things unintentionally which might lead to a discontinuation. You don't want to having spent time studying and then stop short because it all gets too much.
Flexibility means:
you can study when you want, where you want and as long as you wish
your assignments are for a majority done online or can be sent in via email
you schedule your exams: time and location (if for whatever reason you are in a remote place, e.g. Togo for a few months, and time allows you to write your exam there, your university supports you with that)
you don't have to sign up for a several years program, but can choose to select courses and collect certificates and credits over time
Quality of material
School times are over. You are paying for this material. It needs to be
condensed into as little text as possible without loosing quality (no need to read further material other than the one provided to pass your exam to comprehend a topic)
up to date with current examples
uses latest available public information, e.g. books, reports, news
available in electronic format (so can read it on your Laptop, iPad, Kindle or Smartphone)

Your professor
Here again – school times are over, you are paying this person to teach you. Meaning he/she is rated by the quality of customer service he/ she provides. Since you won't meet your professor regularly (some not at all) – your learning improves with the quality of their feedback.
Good feedback:
parts you did well and why
parts you did not so well: what is missing/ what would have been there in a perfect response – including example
suggestions on how you could learn more about the missing part – with specific reference, e.g. page number, chapter, book
provides leads on where to find more information if interested, e.g. reading, youtube, locations
Poor feedback – when you learn little:
this part was good the other not: even if you get a good mark – you will not know why
you were less good in a certain area than others: you have never seen other students submissions
points per item only without comments, you won't know why you are (or not) getting points
In case you get poor feedback, let your university know. If nothing changes, don't waste your time and find one that does have professors who want to teach you.
My personal favorite:
I am studying at Euro-FH since many years. Content is partially German and partially English. Professors are from various countries. There is a choice of 9 Bachelor and Master programs as well as 31 individual courses. Exams are typically written by joining a scheduled session in one of the 12 locations in Europe. If you prefer to, you may also write an exam at any place and time, by paying a small fee to a partner organization, e.g. Goethe Institute, a consulate or alike to provide the formalities.
Note: if you like the university but aren't that fluent in German – Goethe Institute also offers quality language training in German. 😉